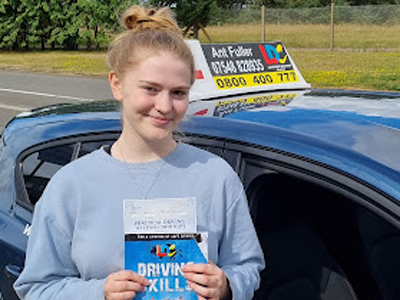 Alex Nicholson
The LDC resources and system were great and worked well for me. Ant was an amazing Instructor and really helped me, very informative & friendly. Thank you!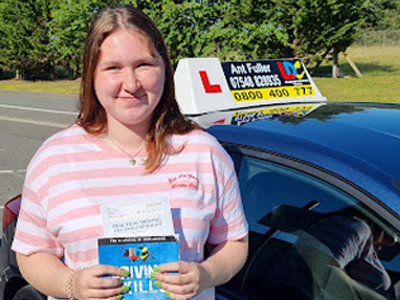 Ashleigh Pearson
Ant is an amazing Instructor as he is so patient and explains everything as many times as you need. He adapts lessons to what you believe would be most beneficial and helps to calm you down when stressed before tests. He makes lessons enjoyable and makes you feel at ease so you can just have conversations while you are on lessons. He will also not push you towards tests unless you feel ready and is very helpful with booking them for you if needed.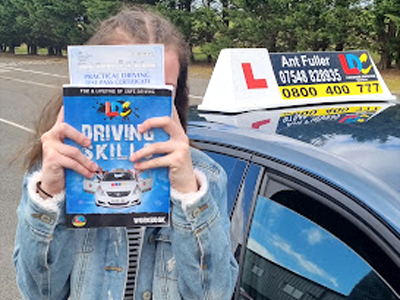 Sophie Watkin
Passed 1st Time
Ant is a nice Instructor - Would recommend. Lesson's were fun and constructive/planned. I liked the LDC app - really helped me with the theory.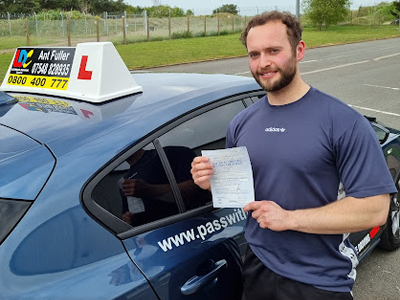 Curtis Seymour
Passed 1st Time
Really nice guy and easy to talk too while driving, making it a comfortable and easy experience driving where you need. The LDC workbook given on the first lesson was really useful to keep progress for yourself after each lesson and lessons coming up, with Ant's help debriefing after each lesson. He calmed me down before my test to prepare me with what could be coming up (step by step of what's included) and questions that could crop up from interior or exterior. Amazing guy and would recommend to anyone! Thank you.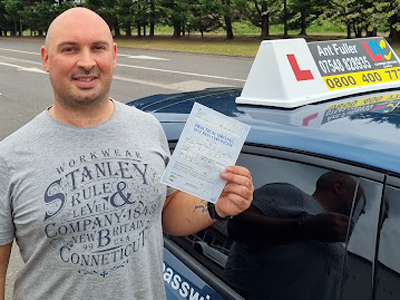 Jonathan Wheatley
After 5 years and three previous failed tests, not to mention about 10 Instructors, I have to say Ant Fuller from LDC was amazing from the start, putting me at ease and finally getting me across the line. I'd highly recommend him whether you're a new driver or trying to get polished for your test. Excellent!!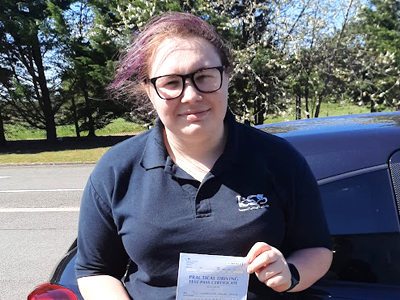 Charley Taylor
Passed 1st Time
I can't thank Ant enough, having Autism, Asperger's and Dyslexia Ant was really patient and gave me the confidence to believe in myself, trying different techniques to help and it really worked, so thank you so much Ant.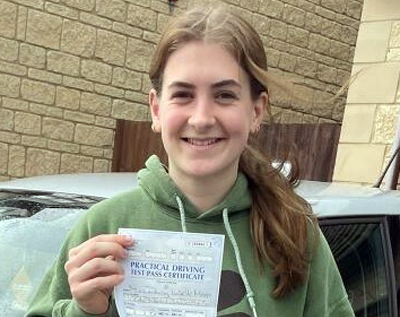 Daisy Moon
Passed 1st Time
Through all of my lessons Ant has given clear Instructions and guidance which gave me confidence in myself. Ant is a very calm, motivating Instructor who helped me pass my theory and practical tests first time. I would highly recommend Ant, always on time with a super clean car.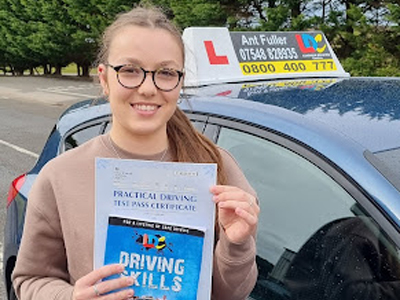 Olivia Wisdom
Passed 1st Time
Ant was very patient in my lessons. He is very calm and responds in a calm manner when mistakes are made. I always looked forward to my lessons. The LDC app was my source of revision for my theory and I found the mock theory tests really helped. The LDC workbook helps you to prepare for your lessons. Really recommend learning with Ant!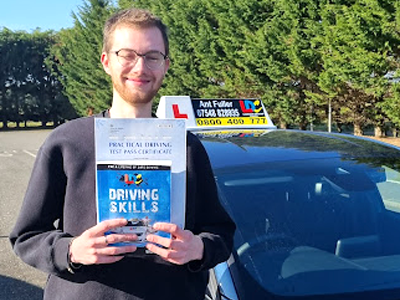 Joe Couper
Passed 1st Time
Great Instructor, I never finished a lesson feeling like I hadn't achieved anything. Two hour lessons are the way to go. The car is always clean and Ant is always a happy chap.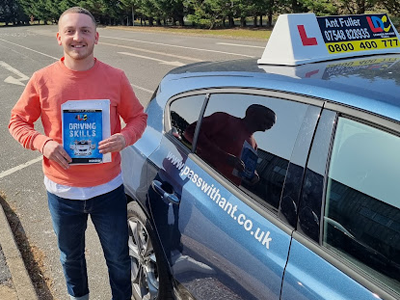 Lewin Auciello
Passed 1st Time
Ant is a great Instructor, very clear with Instructions, while very friendly, I gained a lot of driving confidence which got me a first time pass.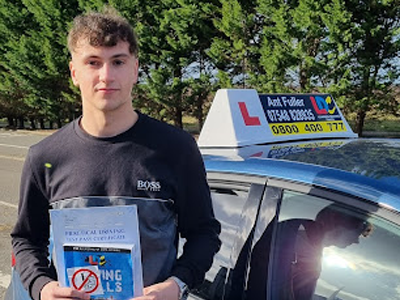 Taylor Gilbert
My Instructor Ant was very good, he helped me a lot especially when I was lacking in confidence. I found it easy to book lessons when I felt like I needed one. I found the LDC workbook very handy and the LDC website as it allowed me to prepare for my theory test as well as my practical test. I would definitely recommend using Ant as a Driving Instructor as he was very patient and helped me a lot.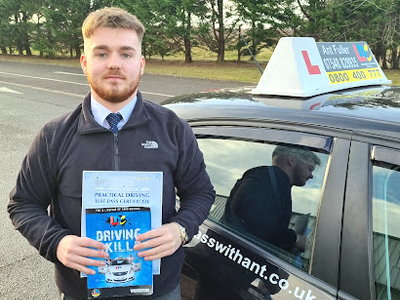 Matt Betts
Passed 1st Time
I have found Ant to be a very committed Instructor who has been very helpful. He has always ensured I am learning to a safe standard of driving for life, not just to pass a test. Ant has been very willing to listen to my concerns and solve lessons upon areas I feel I am struggling with. As well as identifying areas himself that I need to work on. The LDC app was very beneficial and helped me to pass my theory test on my 1st attempt, the questions are very similar to the actual test. I would highly recommend Ant, a great guy as well as an Instructor.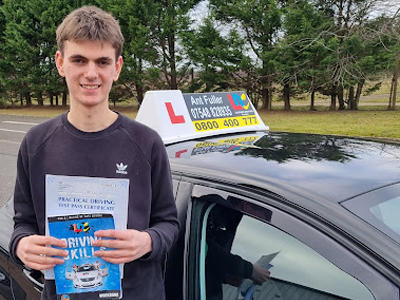 Max Lambert
Passed 1st Time
Ant is an excellent Instructor, he explains things very well and clearly and if you do not understand or make a mistake he will stay calm and explain again. The LDC videos provided have been very beneficial, particularly at the start of me learning to drive. The videos explain the skills thoroughly and with great detail. The LDC workbook is also very helpful and details the skills in detail.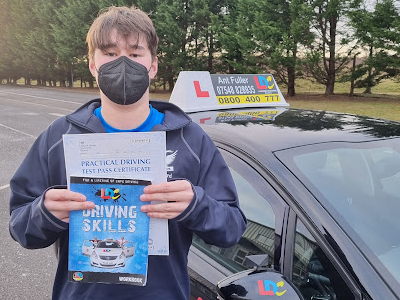 Elliot Mitchell
Passed 1st Time
Ant was excellent, clear, thorough and calm. He helped me pass first time. The resources provided were amazing. The LDC workbook and the online hub helped tremendously with my driving knowledge. Ant is a great guy, would recommend!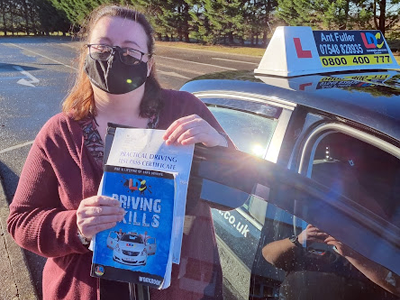 Siobhan Stevens Hirsh
My driving instructor is amazing, he adapts his way of teaching with how you learn the best, always keeping you at the centre of your own learning. With assistance from the LDC workbook and Anthony, I was able to discuss and decide what lessons I wanted to focus on and I was able to track my progression the whole way through learning by ticking off each lesson and writing about them in my workbook, repeating the lesson if I wasn't confident in my ability. With the LDC workbook and advice from Anthony I was able to go at my own pace and as a very nervous driver that was amazing. I have to thank Anthony so much for giving me the confidence to become a really good driver and I feel safe being on the road after passing my test because of his excellent training and guidance throughout my learning journey.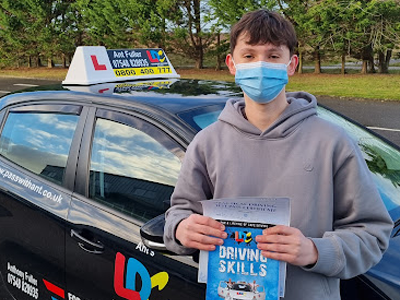 Sam Musgrove
Passed on 2nd Attempt
Ant is a calm, composed driving instructor, who never got angry or stressed when I made a mistake, making it an enjoyable experience throughout. He was also always available to help whenever I needed it. The LDC System helped with this as I could access the information whenever I needed it, therefore I could always brush up on my knowledge without having to look elsewhere. Overall, my experience was great and has provided me with a skill to use for the rest of my life, therefore I would recommend LDC and especially Ant Fuller.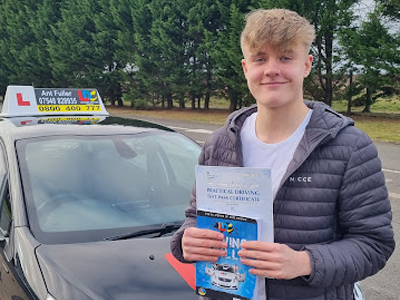 Cody Roe
Passed 1st Time
I passed my test first time with the help of Ant & the LD System. Ant is a top bloke and a top Driving Instructor. He explains things well and doesn't get annoyed when you get things wrong. The LD workbook and videos are very useful and helped a lot with my understanding of the roads. The theory test prep also helped a lot to pass my theory test first time. I will be recommending Ant to anyone who wants to start learning to drive!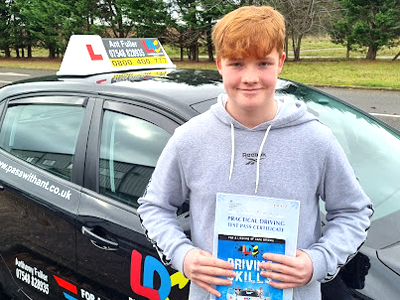 Josh Fuller
Passed 1st Time
Even though my dad was my driving Instructor he still acted professionally and treated me like any other of his students. The LDC workbook was really helpful towards my driving test and was easy to understand. The online driving theory app which Included practice theory tests and hazard perception tests really helped me to prepare and pass my theory test first time and it was also really easy to understand. Thanks dad (Ant), you were brill!!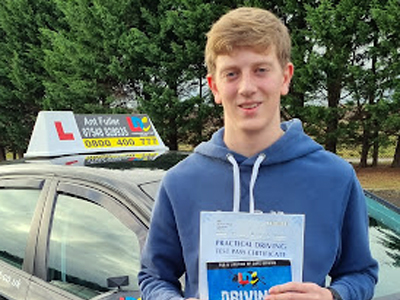 Thomas Upton
Passed 1st Time
Ant was great, he is patient and if I did something wrong we would always go back and try again. Going to the area of the test really helped me build up a knowledge of the area so I knew what to expect at test. Personally I was helped a lot by personal practice with my dad. Overall Ant was a great person to be with as he has a bubbly personality.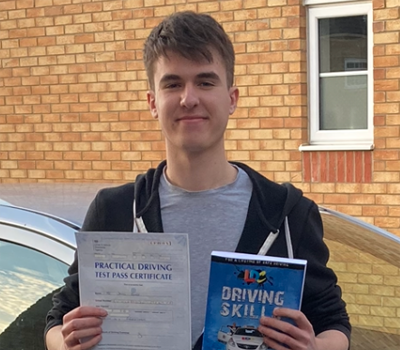 James Bunce
Ant was very patient with me and was helpful every step of the way from the start to the final days leading up to my test and was very supportive, along with his calm, relaxed and fun personality which always aspires confidence. The support didn't stop outside the driving lessons as Ant also provided an amazing driving book with all the information I needed to pass my theory and driving test. I passed my final test on only the 2nd attempt thanks to Ant and I 100% recommend him for anyone working towards a driving license. Cheers Ant.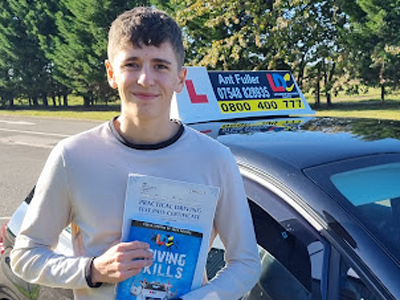 Lewis Gray
Passed 1st Time
The LDC Workbook really helped me pass both my theory and driving test. I was able to keep a track of what we have covered and learn the new material for the next lesson, this saves time when actually on the lesson which means more driving. Anthony is such an amazing driving Instructor and person, he helps you keep calm during lessons by his teaching style, also he makes lessons fun with his personality which makes you look forward to the lessons. Thanks to him I passed both my theory and driving test first time.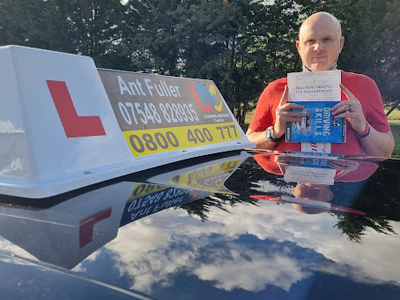 Stephen Rollinson
Many thanks to Ant for his patience. It has been a long and testing time but Ant has always been positive, even when criticising. I would 100% choose Ant If I ever needed him again and would/have recommended him to anyone who wants to learn.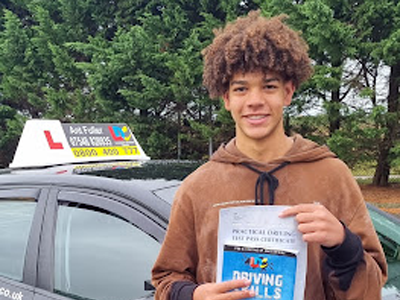 Theo Medwynter
Passed 1st Time
I passed 1st time! The resources provided by LDC were excellent, especially the LD Workbook and the mock theory tests. Ant is an amazing Instructor, looking back at my first lesson, I am genuinely astonished at how easily and quickly I progressed. I would also like to say a final thank you to Ant for being a great Instructor, and providing a nerve free and friendly environment throughout.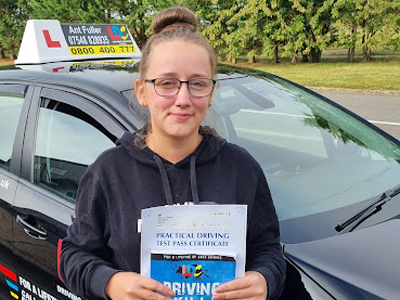 Jodi Randall
What a roller coaster my driving has been but I know I would not have passed my test without the hard work and dedication from Ant. At the start my nerves and anxiety played a massive part to my confidence when I was driving which meant driving wasn't so easy, but I feel that after I spoke to Ant about my feelings, Ant adapted the lessons slightly to build my confidence in the car. The trust I had for Ant in the car was crazy. never once did I feel unsafe. The online system is amazing as I was able to practice my theory for free. Any question I didn't understand I was able to take to my lesson and Ant would explain it to me. The workbook was great as you could read about the lesson before actually doing the lesson. All in all, If you get a chance, go with Ant!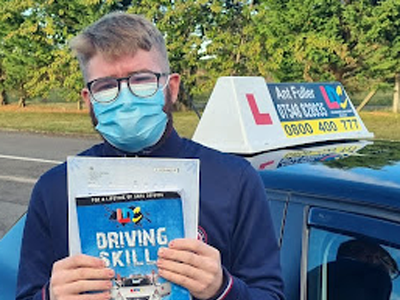 Jack Lacey
Ant was a great Instructor as he was very patient with me and always gave me the right advice at the right time. The LD System helped me out so much and is so easy to follow.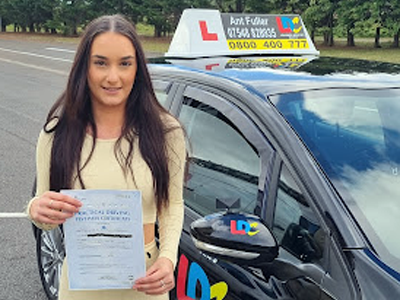 Emily Sherwin
I found the LDC Student Workbook very helpful in learning to drive, all the Information is clear and helpful. I also like that there are targets in there that you can tick off once you're confident. Ant has been very helpful and a brilliant Instructor, making sure I feel confident with everything and giving me tips on how to Improve.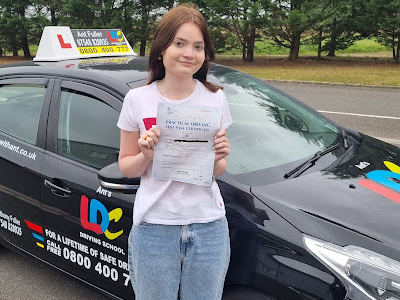 Jess Carr
Ant was very patient when first learning new things and when I had any questions he gave a clear answer to me. Although I was very disappointed about my previous test results, Ant always kept me positive. When first learning, the LD workbook and DVD provided were very helpful and always put me in good preparation for the next lesson. These DVDs and books were also very clear and always gave step by step instructions on how to complete all manoeuvres.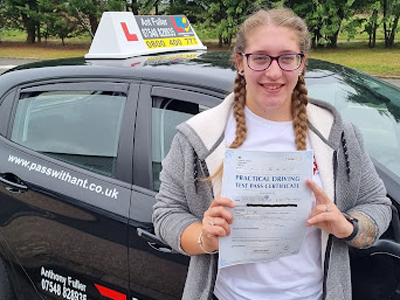 Erica Halfpenny
Ant is an amazing Instructor, very friendly and makes you feel calm and relaxed. He helps to take test pressure away. I've done two practical tests prior to taking lessons and test with Ant and have never felt as confident to go to test as I have with Ant. The theory help on the LDC app is really helpful too.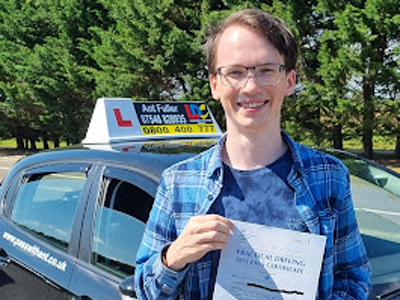 Alex Williams
Passed on 2nd Attempt
When I came to Ant I was a complete beginner and had never driven a car before, and he was very good at explaining everything in a clear and understandable manner. The LDC system really helped me, as it allowed me to preview online the content for the next lesson, as well as consolidate the stuff from the previous lesson. This was useful to check some details that I may have forgotten in the mean time, and to check back in the system of targets that are used, which get checked off at the end of each lesson. Ant himself is very organised and excellent at replying to messages, so communication outside of lessons was never an issue. After failing my first test, through no fault of Ant's, we booked another test far in advance and he was again very helpful by finding me a much sooner slot by booking where someone else had cancelled. Overall I would thoroughly recommend Ant to anyone looking to learn to drive in a safe and enjoyable environment. Thanks for all the help and enjoy your holiday.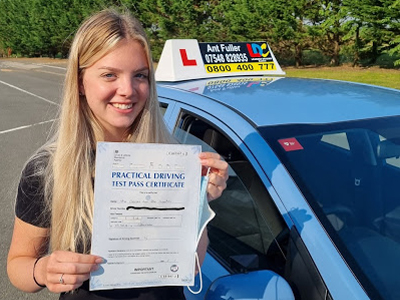 Chelsea Thompson
Passed 1st Time
Lots of resources are provided including the LDC workbooks, DVD's and more online. My Instructor Ant pushed me and my ability to drive constantly. A great Instructor! Learning to drive was a fun experience. I was made to feel safe and comfortable at all times.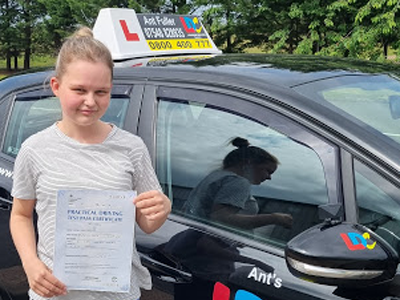 Chloe Maguire
Passed 1st Time
After having had two previous driving Instructors who weren't very nice, Ant was recommended to me. He is really easy to get on with and I looked forward to my lessons. He always explained clearly what I needed to do during each lesson and even after a tough lesson he would explain where I was going wrong and how I could improve my driving. Learning to drive during COVID was not easy but with Ants help and support I passed first time, and I could not recommend him highly enough.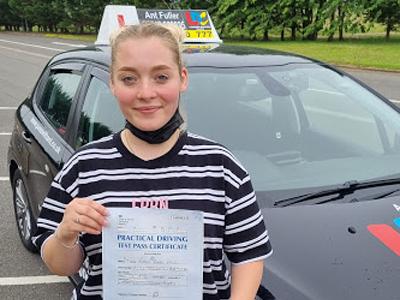 Rosie Hill
My experience with Ant's LDC Driving School has been amazing. I've built skills and confidence whilst driving with Ant. He has always believed in me and pushed me even when I began to give up. I would 100% recommend Ant to anyone who was looking for a perfect learning experience.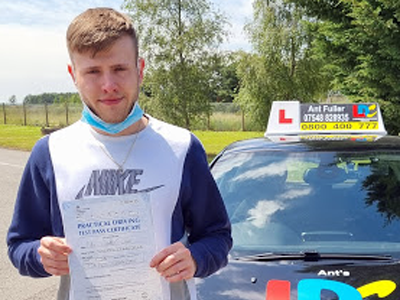 Jack Tudor
Passed 1st Time
I was not very confident in driving at all, I found LDC on google and the gentleman was very pleasant and kind. I picked up confidence very fast and Ant was the reason for it. We spent time pinpointing the issues that kept happening. Once these were addressed I felt so confident that I passed. Thank you so much Ant, the LDC learning structure is phenomenal.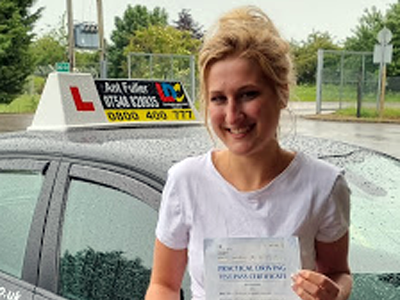 Holly Parker
Well what can I say, Ant was amazing, he was so patient with me and he gave me more than I could of asked for. I feel Ant has given me all the skills I will need in my driving. Ant made every lesson good from the progression in skills to the choice in radio channel.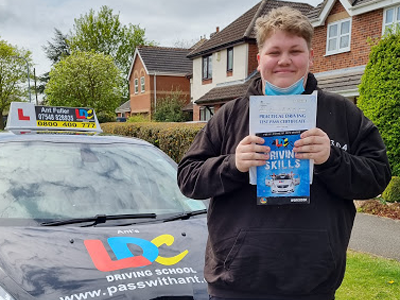 Kieran Pullinger
BEST DRIVING INSTRUCTOR EVER
Ant is calming, relaxed and patient. With Ant and the LD System I know I am going to have a safe time driving in the future. I am so thankful for everything that Ant has done in my time learning. The LD System resources really helped with the book and videos giving advice for lessons and practice for the theory.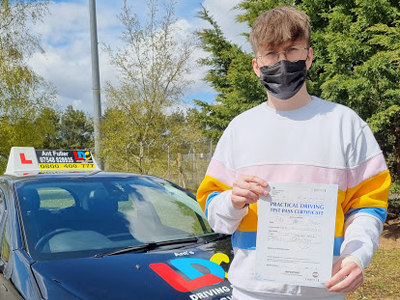 James Mason
Passed 1st Time
Firstly Ant is a brilliant Instructor, his lessons are well structured and they will guarantee for you to be ready for driving test. The way he structures and teaches his lessons takes out all of the stress and nerves you may be feeling, making your experience relaxed and enjoyable. The learning method they use is excellent, the target based system shows how you're progressing throughout your lessons which is really helpful when it comes to booking further lessons/your test. The LD workbook given to you when you first start learning is really handy, it's a great tool for going over what you've learnt in previous lessons as well as being a helpful revision tool for your test.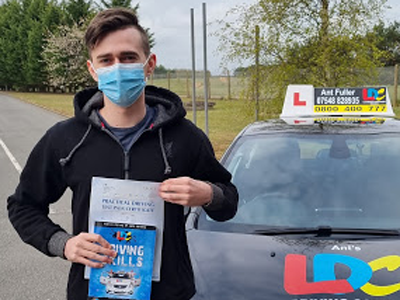 Marcus Flanagan
Ant was very supportive throughout all my time with him. He provides all resources on his website and in the workbook he gives you to ensure you have everything needed to pass your theory test and answer any questions you have about himself. Ant is easy to talk to and easy to get in touch with. This makes your lessons less stressful and pressured and makes them more enjoyable to have. Ant is also very punctual so is always on time and rarely has to rearrange lesson times.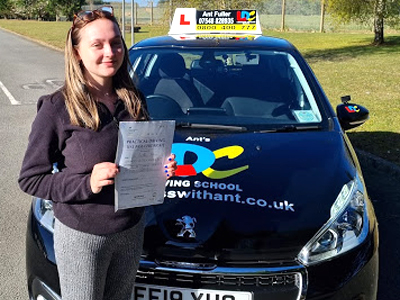 Beth Maiden
I think the LDC System is brilliant. They have a great organisation and very professional. The workbook has really helped me, especially the Show and Tell Me questions. Ant has been an amazing Instructor and has always been supportive and kind and I would recommend him to anybody wanting to learn how to drive.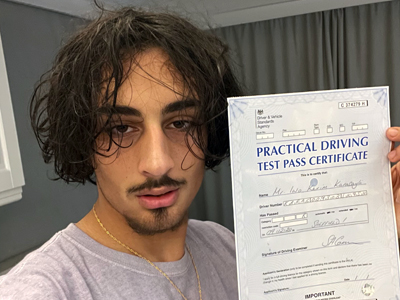 Iwo Karacayli
Passed on 2nd Attempt
I was eager to start driving and when I heard about the LDC course I was immediately intrigued and decided to learn with them. My instructor Ant was very efficient with my lessons and I had gotten through the course really quickly. Ant as a teacher was also very helpful and taught me things that could come up in real world driving which other instructors may not do. Most importantly I had a lot of fun learning with LDC and I would honestly highly recommend it to anyone who is looking for driving lessons. Thanks Ant!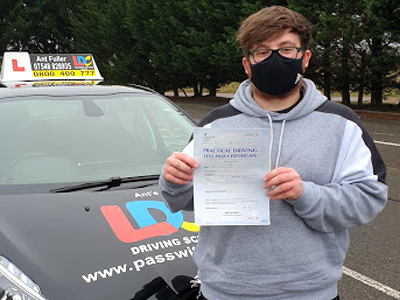 Tyler Smith
Passed 1st Time
Very clear and understanding instructor and made me feel comfortable in my lessons. The workbook was very good in helping me to understand what I would be doing in my next lesson and what targets I should be aiming for. At the end of each lesson we would go through my targets which helped me to see what progress I was making and what I needed to improve on in the next lesson.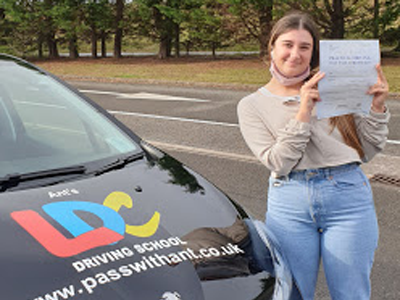 Shannon McIvor
Passed 1st Time
I have had a great experience with Ant and the LDC System, everything from the workbook to the actual lessons. Ant is great for putting you at ease and making you feel confident, on test day he made me feel fully confident. Using the LDC System is very simple and effective.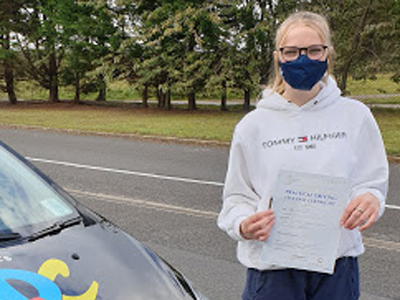 Poppy Tomlinson
Passed 1st Time
The LDC resources really helped me to get all the knowledge I needed to feel confident to pass my theory and practical. Ants well structured and planned lessons enabled me to be able to read ahead on what we were doing the next lesson making our lesson time valuable. Ant's calm and informative teaching made learning to drive a great and fun experience. I would definitely recommend Ant for a first time pass.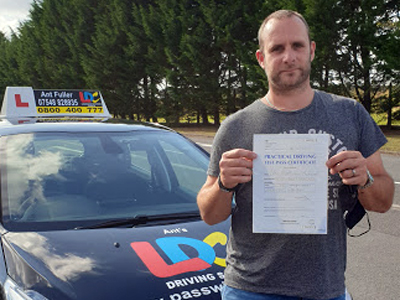 Matt Newcomb
Passed 1st Time
I came to Ant for lessons and the time I spent with him he taught me a lot and I'm glad I listened to him. Ant is an amazing instructor and I would definitely recommend him. Thank you for all you have done.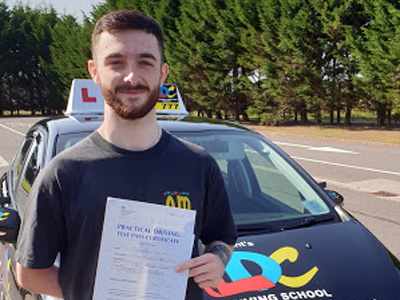 Brandon Inglis
Passed 1st Time with Zero Faults
I came across Ant's car parked on his driveway after returning home from university. I previously had "some" experience driving but Ant was perfect in his preparation and patience throughout. Despite returning in a post covid-19 lessons were planned expertly and safety/health was always paramount. I can easily say the resources available were incredibly useful from theory prep, lesson management as well as the mass amount of e-learning at my disposal. Ant ensured lessons worked around my skill set and were progressive as my ability increased. I also felt no time in the car was spent wasted as I received plenty of exposure to situations I will undoubtedly come across throughout my time on the road. Ant's attention to detail alongside his friendly nature made learning a breeze and at no moment have I ever felt uncomfortable. This high quality of instructing alongside excellent physical and online recourses is the reason behind the passing of my test without a single fault! I will be recommending Ant and the company to family without doubt and look forward to passing by him on the road in the near future. Thanks for everything.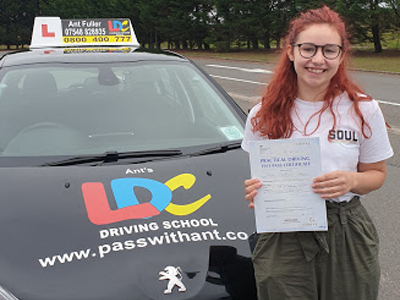 Megan Garwood
Passed on 2nd Attempt
The LD System worked very well for me, it is clearly laid out and the format of lessons helps remove stress from uncertainty about what you should be doing. Ant was a patient instructor and explained things clearly, allowing lessons to be relaxed and enjoyable.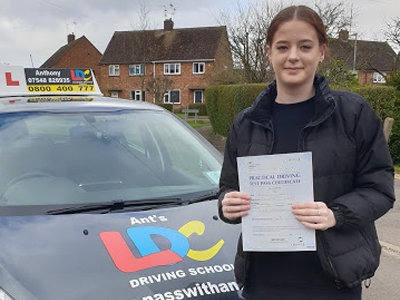 Alice Harkness
Passed on 2nd Attempt
Ant is a very patient and friendly instructor who is focused on you making progress whilst remaining safe. I regularly used the workbook to plan ahead for lessons or go back to things in previous lessons. I also found the Youtube videos very helpful, especially regarding the manoeuvers. The LDC theory test preparation resources were extremely useful and helped me pass my theory test with ease. Overall, a great program & experience.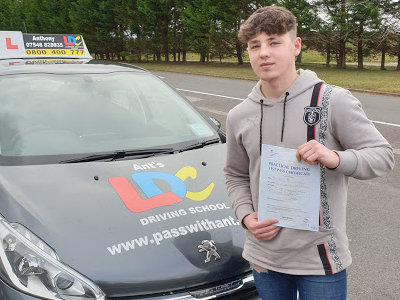 Andrew Miller
Passed 1st time
Quality Instructor, lesson plans were always well paced and easy to follow, the method of learning worked well and i wouldn't be able to recommend any changes due to the fact they are informative and enjoyable.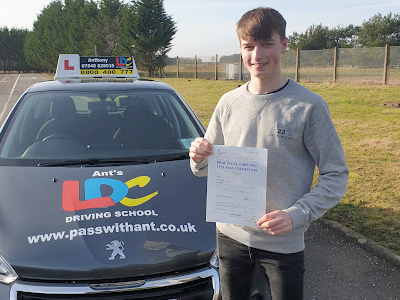 Bertie Cliffe
Passed on 2nd attempt
Ant is a very friendly instructor. He is a very patient and informative instructor who gives great advice and is very keen to help you improve. Highly rated! The LD Systen is very handy to check upcoming lesson times etc. I found the LDC theory test resources really useful to revise for my theory test. There are plenty of questions and hazard perception videos to make you feel fully prepared for the test.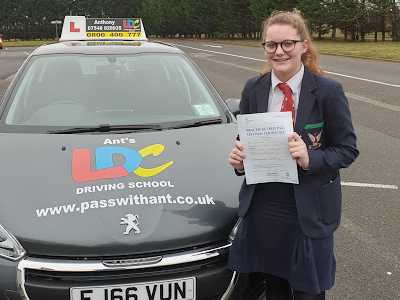 Remmie Ferla
1st time pass
The LDC resources really helped me with the lessons and the theory test. Anthony makes you feel very comfortable from the start and he has taught me valuable skills and believed in my ability no matter the circumstance. I would really recommend, I really enjoyed my experience with LDC and Ant! He always makes lessons fun and you always have a laugh along the way.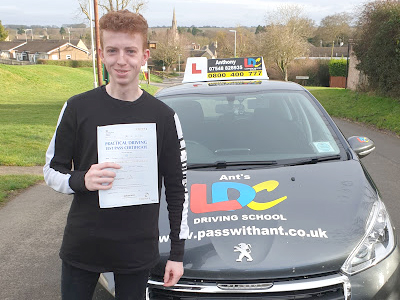 Sean Cunnington
Passed 1st time
The whole system as one is brilliant. It teaches you everything you need to know at a rate you're comfortable with and you have a say in what you want to do on each lesson. As an instructor you couldn't fault Anthony at all. He gives clear instructions and lessons and is relaxed in his teaching methods, allowing you to feel comfortable in lessons. I would highly recommend this driving school and instructor to anyone looking to get good quality driving tuition.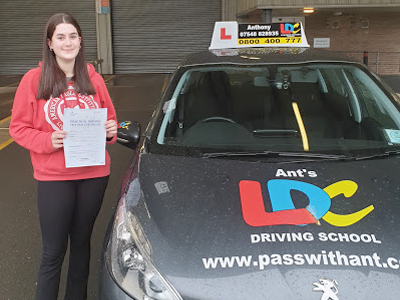 Issy Pugh
A great result on a miserable day!
Ant was a great Driving Instructor, Ant and the LD System really helped me progress quickly with my driving. I am so pleased I have now passed.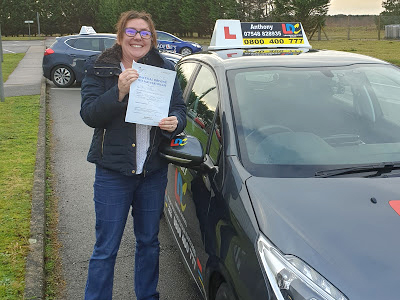 Siobhan Parkin
1st time pass
Ant was brilliant, so patient, and took his time explaining everything. A top class instructor and a friendly guy to boot. Thank you Ant! The workbook was brilliant and to see how well you are progressing after each lesson made it useful to see your progress. Love, love, love the LDC System!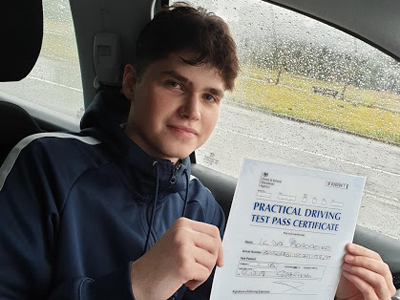 Ilja Borodeiko
Ant the instructor is very friendly and helpful, If there is a problem he will always help and lighten the mood. The LD System is easy to follow and understand, the workbook helps you choose your next targets which will help you progress in your driving. Overall I do recommend Ant to anyone, he is a great and funny instructor.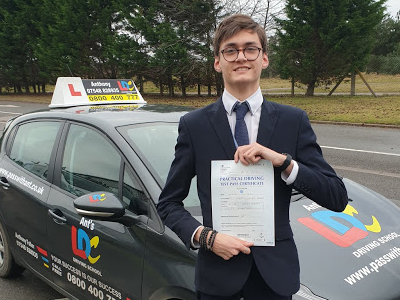 Keiran Reid
1st time pass
When learning with the LD System i found the resources very helpful. I liked watching all the videos before each lesson, and then practising those lessons in my own time and with Ant. The workbook was also helpful, especially when learning for my theory and the show me, tell me questions. Ant has been amazing and really helped me get comfortable with the car and driving in any situation. I always looked forward to lessons with Ant and it has been the highlight of my day for many months. I highly recommend both Ant and the LDC System.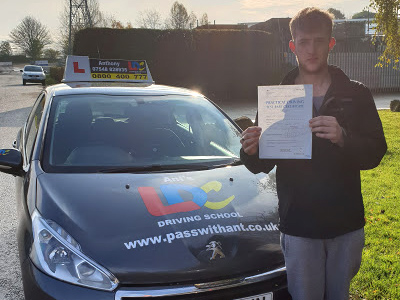 Ryan Thompson
Passed 1st time
Ant is by far the best instructor I've come across, I have had three previous instructors and their teaching ways were all the same but Ants is new and very beneficial because he records every lesson on paper, he is very well organised. I would recommend him to any learner driver. The online tools/website is amazing as i could look at my targets to be pass ready.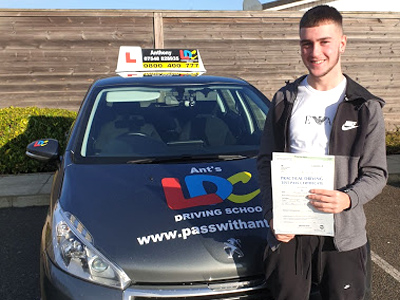 Andrew Irvine
Passed on 2nd Attempt
I think Ant was a great instructor, always on time, made it fun to learn to drive and helped me progress my driving quickly and very well. Also, the LD System is very helpful especially in helping me pass my theory, there was a lot of videos that helped for every particular part of learning to drive. The workbook was very helpful as it told me objectives and what to work on and what the examiners are looking for. Overall, Ant is a top guy who I think really helped me become the driver I am and helped me pass, whilst the LD System is great for new learners and makes the process quicker and more enjoyable.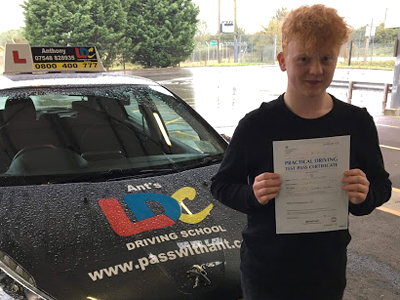 Frank Richardson
Passed on 2nd Attempt
The LD System is very easy to understand, the videos and workbook show how to do everything in a very simple way without missing out on any details. Ant is a very good instructor who is patient and calm when you make a mistake, he makes driving very funny throughout the whole course. The LDC website has loads of resources to help pass your theory, it's easy to use and really helped me out.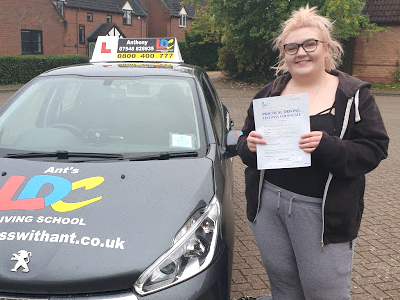 Chloe Nettleton
So happy and proud
Firstly I would like to thank Ant for teaching me. He had every confidence in me. He was very patient with me. He is very patient when I was getting frustrated when I couldn't get it right. He is very good with communication, very easy to get hold of, and very understanding when you can't make the lesson. In the car with Ant was a easy ride, he is very easy and creates a relaxed environment. He is very understanding if your'e having issues with a manoeuvre. He lets you lead the lesson within reason, so you can practice what you want. He is very chatty and easy to get along with. Thank you Ant.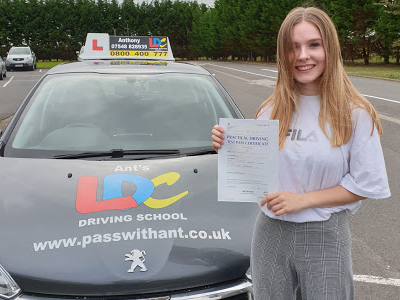 Lauren Watkiss
Smashed it,1st time pass
Great semi-intensive course! Always felt like a calm environment to learn in and lessons felt informative and encouraging. By the time i was taking my practical test i was confident and felt well prepared for it. The student-centred LD system was great for recording lessons and progress and allowed me to choose what i would be learning next. 10/10, i will definitely be recommending both LDC and Ant Fuller!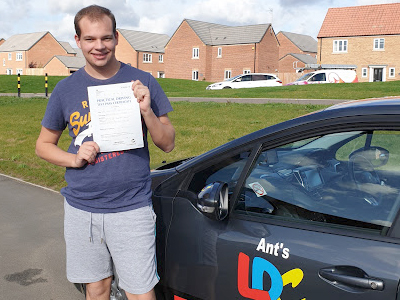 Matthew Arkwright
Passed on 2nd Attempt
Ant is an outstanding driving instructor. His patient, relaxed and encouraging approach to lessons has really helped me overcome my nerves and build my confidence when driving. The LD system has allowed me to plan my lessons, and keep track of my progress. Ant was always punctual and on time for my lessons, and I couldn't have asked for a better instructor. Thank you so much!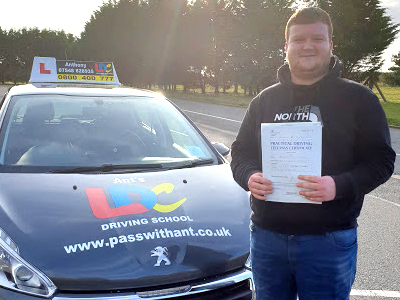 Brandon Hopkins
Passed 2nd Time
I think that the LD System is very good and structured and I like the way that you are given the Driving Skills Workbook which has everything in and helps you overall. Ant is a great instructor and I definitely would recommend him to others.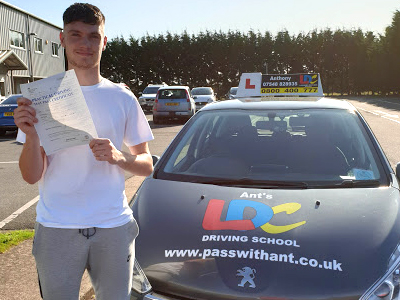 Harry Stephenson
Passed on 2nd Attempt
I really enjoyed the LD System and it was great taking me through the learning. I had no driving experience prior to these lessons and Ant was a fantastic teacher who made me feel very comfortable and always encouraged me even in rough moments. Overall Ant is a top bloke and I would recommend him to anyone who wants a fun learning experience.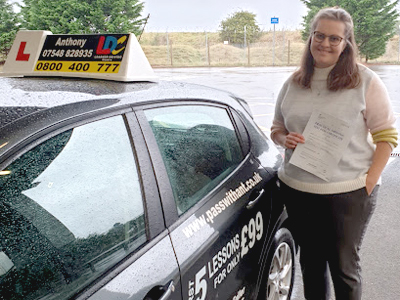 Harriet Barlow
Passed 1st time
Ant picked up on some bad habits I had gained with a previous instructor, he was calm, clear and relaxing to drive with. He was always on time and punctual. He was flexible for me to learn around my working hours. The LD system gives you plenty of resources to pass alongside your lessons. Ant gave me freedom to plan my lessons as I needed, this allowed me to prepare not only for my test but also for driving after my test. I not only gained safe driving skills but also confidence. Ant worked hand in hand with the LD System to not only help me with a great pass result but also prepare me for my future driving.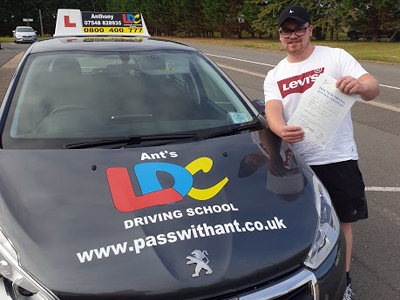 Bryson Riches
Passed 1st time
I found the LD System very effective and Ant as an instructor to be a very good teacher. This allowed me to pass my driving test first time after just 13 hours of training with Ant. I would highly recommend this driving school as the training is made simple and instructions are very clear and easy to follow.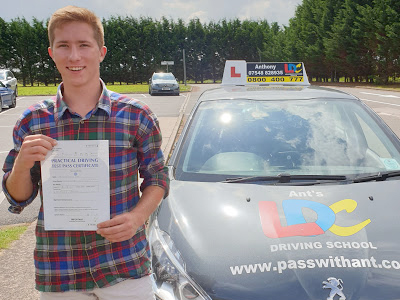 Oliver Rudd
Passed 1st time
I have been driving for the last few years on private property and so felt confident with my driving skills, but I had no idea how to drive on the road. Ant and the LD System have done amazingly well, teaching me more driving skills and allowing me to pass first time. I would highly recommend Ant as he is very patient, observant and he never lost his temper, even in quite challenging situations. Thank you Ant!!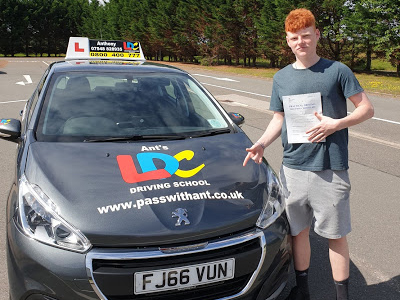 Jamie Johnstone
All the best drivers pass second time
I found using the LD System very helpful when passing my driving test because it's structure is very flexible and fair. My instructor Ant played a big part in me passing and I would definitely recommend having your lessons with him due to how comfortable and easy he makes you feel when driving. Overall I have enjoyed my time/experience learning to drive with Ant, the LD system and very thankful for all thats happened.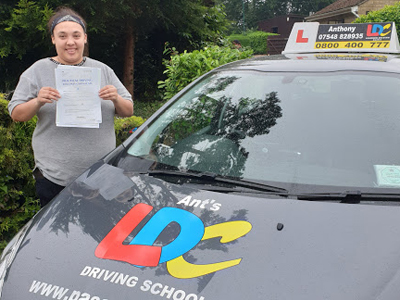 Alisha Millington
Overcome her nerves and passed 4th time
Ant was very helpful, patient and positive and helped with my anxiety and nerves. The LDC program is good and very well structured.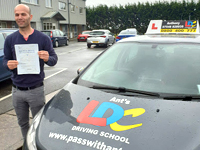 Foued Fersi
Passed 1st time
Now I have got over my excitement of passing my driving test...first time! I would like to say thank you very much for you expert tuition, encouragement and confidence building without your help I would not have felt so ready to take my test. I would not hesitate in recommending you and LDC to anyone taking up driving and wanting to pass their driving test. Kind regards and a very big thank you. Foued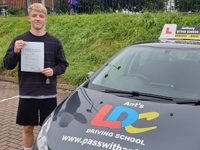 Harvey Oxford
1st time pass
Ant has been great since I've started my driving lessons. Very supportive and very encouraging from the start. Using the handbook has been vital to my progression. I thank Ant for everything and I highly recommend anybody to use LDC.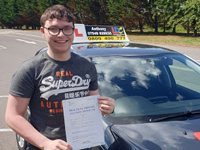 Freddie Evans
Passed 1st time
Ant and the LDC system is outstanding! The LDC group offered great prices and online system which helped me pass my theory with ease due to the numerous amounts of easy access resources and questions!
Ant himself was very encouraging, relaxed and positive throughout the whole process for my 20 hours. We progressed through the LDCs lessons efficiently and had gone through everything within 10 hours. I took on 2 hour weekly lessons and it worked very well giving us plenty of time to effectively get through what we need. I couldn't recommend Ant enough, brilliant guy and great instructor. 10/10!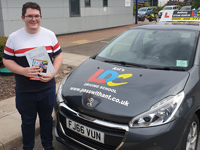 David Owen
Passed 1st time
Ant is a really friendly instructor and I felt I could discuss any concerns I had throughout my lessons. The flexibility Ant and the LD System gave me to do what I wanted to learn in the lessons was really good, it gave me the feeling that I was in control and in my opinion helped me learn quicker. The learning hub and resources was really useful, the amount of theory questions on there to practice made me feel really confident going into the test. The book, partnered with the videos helped me prepare for the lessons and meant that we spent less time talking in the lessons and more time practising driving. To summarise both Ant and the system are really good and would definitely recommend.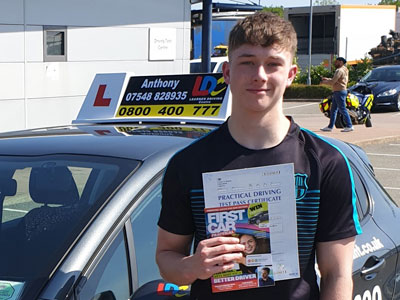 Oscar Benson
Passed 1st time
The LD System is a logical learning plan that helped me build up my skills and i could always see the progress that i had made. It allowed me to pass my driving test with only 4 driving faults with only 23 hours of lesson time with the help of Ant's expertise.