LD System - The exciting new way to learn to drive

Let me introduce the unique
Learner Driving
tuition system (
LD System
), a system that has been designed for maximum progress and ease of learning.
It is a system where each driving lesson is carefully planned and follows a set programme with clearly defined targets, where the instructors use professional training materials and modern training methods to ensure training is both effective and enjoyable. For more details about each driving lesson in the LD System, please click on the driving lesson item below or on the "Links" Page.
LD System Driving Lesson Programme
Part 1 - Basic control skills
This section will teach you the basic control skills needed to drive safely. This is the starting point for most people and essential if you have no previous driving experience.

1. Getting moving
2. Gears
3. Steering
4. Co-ordination
5. The Emergency Stop
Set Manoeuvres
The introduction of teaching manoeuvres can begin at any point after completing lesson 4 of Basic control skills.

M1. Straight line reversing
M2. Reversing to the left
M3. Pull up and reverse right
M4. Bay Parking
M5. Turn in the road
M6. Parallel parking
Part 2 - Road skills
This section will teach you the driving skills needed to cope with modern road systems

6. Hazard drill & Junctions
7. Crossroads
8. Emerging from busier junctions
9. Roundabouts
10. Traffic signals & Pedestrian crossings
Part 3 - Traffic Skills
This part teaches you how to use the basic controls and road skills to deal with a wide range of traffic conditions and situations.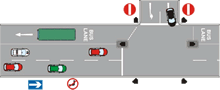 11. Hazard perception and defensive driving
12. Dual Carriageways
13. Town and city centre driving
14. Progressive driving
15. The driving test
The LD System was originally designed for intensive training but it can be of equal benefit for those taking weekly lessons. For intensive training to be effective each driving lesson has to be carefully structured, meticulously planned and expertly delivered - hence the development of the LD System.
The benefits of the LD System are:
1. A comprehensive, structured driving lesson programme
The LD System represents the culmination of many years experience in successfully preparing people for the UK driving test.
Using the LD System will not only give you the best chance of passing your test first time, it will also provide you with the skills for a lifetime of safe driving. Nothing has been left to chance.
Unfortunately, most driving schools in the UK do not provide a standard structured training programme - each driving instructor does his or her own thing making it very difficult for you to know how long it will take, what to expect or where you are at any point in the training process. This simply cannot happen with the LD System because you know exactly where you are in the programme at anytime. You know when you are ready to move onto the next driving lesson in the programme because you will know when the current driving lesson targets have been achieved. Each step is clearly defined. You know what you are trying to do and you know when you can do it. Your progress is precisely recorded in your workbook for anyone to see.
2. An easy to follow progress monitoring system
Each step of your development and progress is recorded in the driving skills workbook so that at any time you can see exactly what stage you are at and what's left to cover. Parents particularly appreciate this feature as they can see precisely what's happening and, equally as important, what they are paying for!
3. Accelerated learning that's fun
By preparing for each driving lesson beforehand, using the LD System DVD and workbook, you will save time in the car on unnecessary explanations. On traditional driving lessons around 20 minutes per lesson is spent parked at the side of the road while your instructor explains in detail what to do and how to do it. With LDC instruction this doesn't happen. You simply start the driving lesson with a short question and answer session covering only those aspects of your study that you were unsure about. This potentially represents a saving of around seven and a half hours over a traditional driving course of 30 hours duration. At £20 or more pounds per lesson, that's a potential saving of £150 or more!
Not only is the training far more effective because you actually get more practice time on each driving lesson, the practice you do get is far more productive because you are better prepared and focussed on specific learning targets. Better still, you would have done this in the comfort of your own home, without any time pressures or worries about controlling a car at the same time. With this knowledge and understanding in place you just need to concentrate on putting it into practice when in the car on your lesson.
In addition, the training is far less stressful because you know what to expect. You have seen it before on the DVD video and practised it in your mind. You know you will not be pushed onto the next step until you have mastered the current one. Throwing people in at the deep end rarely works and only serves to make the learning process unpleasant and stressful. With LDC this won't happen. You will look forward to each lesson and find the experience most enjoyable. As you know, any subject you enjoy studying makes the learning process easier.
4. An aid to extra practice with family or friends
The workbook and DVD can also be used by anyone who may be providing you with supplementary practice to ensure any additional practice is totally complementary and not counter productive to your learning.
Competent instructors who care
Each LDC driving instructor is specially trained and chosen for their caring nature. The best driving instructors are those that genuinely care about their customers, who are passionate about their job and who have received the very best training themselves.