Hazard Perception Express download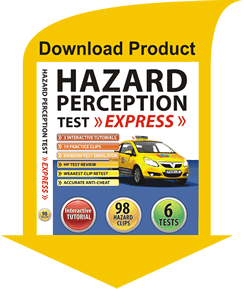 The Hazard Perception Express downloadable software product provides you with 98 test simulation video clips and 30 additional example hazard clips suitable for car drivers, motorcycle riders and ADIs.
This compact design enables you to quickly download the base product with all the learning and practice features so you can get started quickly while downloading the final mock tests in the background. A total of 1.12 GB will be downloaded in two or seven stages to suit your needs. Cleverly designed to enable you to work while downloading in the background without effecting the products performance. Online hazard perception products often suffer from long waits, poor response and even poorer video quality in an attempt to simulate live test conditions via the internet. This product on the other hand can offer both quality and speed by being smart and making full use of the power of your own PC while still delivering the product quickly and efficiently using the internet.
Ideal for those who are in a real hurry and who may have bought a Theory Test product already and found they really needed more help with or practice on the hazard perception side. Many Theory Test products and kits only contain a handful of HP test clips to practice on or inadequately explain what a developing hazard is or inaccurately replicate the test and the scoring mechanism. This may help to explain why the majority of the hundreds of thousands of people who fail Theory Tests each year do so, on the Hazard Perception section. Don't let this happen to you, make sure you have the best study aid available. Make your first test your last with LDC's award winning software.
HAZARD PERCEPTION TEST (Car, Bike, ADI)
98 test realistic Hazard Perception Test video clips all shot from outside of the car as on the real test . Many Theory Test products and kits only contain a handful of HP test clips to practice on.
3 Highly interactive multimedia tutorials and exercises all with professional voice over throughout to explain how the test works, how to develop hazard perception skills and finally how to drive defensively. Includes 30 Hazard Perception video examples.
14 unique Hazard Type Tutorials with clip practice to help you understand how to identify and react to these common hazard types in the test or on the road for real.
6 unique highly realistic mock Hazard Perception Tests or unlimited randomly generated tests. Nothing comes closer to the real thing.
HP test and clip reviewer with re-take option so you can see exactly where you clicked, where points are scored and more importantly why.
Weakest clips review and retest graphically shows you which hazard clips and types you are weak on so you know where to focus your attention.
Highly accurate anti-cheat mechanism and multimedia explanation of what constitutes a developing hazard so nothing is left to chance.
To fully appreciate what is offered by this product please click on the "Features" tab below.
Buy online with confidence
All credit/debit card purchases are handled by Sage Pay, one of the most trusted and secure e-commerce providers in the UK. LDC do not store your card details. Once the payment is authorised an email will be sent to your email address containing a download link and a serial number. This download link will remain available for 30 days with a maximum of 5 downloads allowed.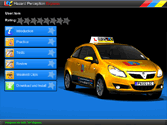 Professional voice over is used extensively throughout the product for help, information, learning notes, tutorials, animations, video, questions, answers and hint advice and has been stated here to save repetition of this fact in the features and descriptions below.
Information learning module
Comprehensive video tutorial and interactive presentation about the scoring mechanism and precisely what constitutes a developing hazard.
Three Multi-media interactive tutorials entitled

About the HP Test,
Hazard Perception skills and
Defensive Driving skills

incorporating 30 video clips and several interactive animated presentations.
Practice learning module
Thirteen tutorials covering each of the 13 common hazard perception test types that can appear on test and in the real world.
14 Practice clips, one for each hazard test type and one containing a double hazard for you to practice on with comprehensive review.
After being tested on any practice clip you are presented with a comprehensive review feature that enables you to replay any practice clip in full or in part using a drag bar line that also shows exactly where you clicked and where each section of the scoring window was with the option to pause at each score point.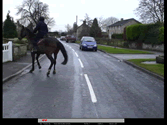 Exam Testing module
98 Hazard Perception video clips used to accurately simulate the Hazard Perception Test. All shot from outside of the car as on the real test.
6 Full pre-set Hazard Perception test simulations with review option. Each test is unique and contains a properly balanced set of hazard test types.
Random Hazard Perception Test simulations with review option giving virtually unlimited test combinations.
After each pre-set or random test you are presented with a comprehensive test review feature that enables you to replay any test clip in full or in part using a drag bar line that also shows exactly where you clicked and where each section of the scoring window was with the option to pause at each score point.
Exceptionally accurate anti-cheat mechanism to help you determine what type of clicking is and is not allowed.
Video is shot from outside the car in full PAL resolution (i.e. 720 X 576) just as on the real test - not from behind the windscreen of the car in a lower, grainer resolution as on most other products. Nobody can match the quantity or quality of the shots we provide.
Review and retesting module
Weakest clip league table review and retest. Allows you to see and retest yourself on your ten weakest clips for any particular hazard type or across all types. Helps you to eliminate any final weaknesses you might have.
Pre-set Hazard Perception test simulation review so that you can re-examine any of the 6 previously taken pre-set tests from the testing module again.
Again as with the practice clip and test modules you have the comprehensive clip review features available to you.
Minimum PC specification
The minimum PC specification recommended to run the above software is as follows:
Operating System: Windows XP, Vista or Windows 7.
CPU: Pentium II 800.
Hard Drive Space: Minimum - 2GB
Memory: 128mb.
Graphics: 800 x 600 x 32 bit colour.
Audio: 16bit SoundCard.
Although we are confident that the majority of Computers that satisfy this minimum specification will successfully run the program we can not guarantee this as other factors can also effect compatibility.